The first annual Ocean Artistry Art Quilt Show was held at the Yachats Commons on March 10, 11, 12, 2017.
This juried show accepted art pieces from local, regional, and international art quilters. The theme of this inaugural show was Gems of the Ocean.
All selected entries were on display during the Ocean Artistry Art Quilt show at the Yachats Commons in the multi-purpose room.  441 N. Coast Hwy. Yachats, OR.
"One of the goals of the show was to introduce art quilting to both locals and visitors to the area", stated Ms. Bass of Polly Plumb Productions and Ocean Artistry. "We thought the ocean theme would allow artists to explore the beauty of this area and make interpretations based on their own whimsy. We were delighted to bring this type of show to Yachats…" added Bass.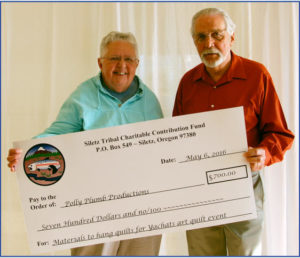 On May 6, 2017, Polly Plumb Productions board member, Ruth Bass, accepted a check from the Siletz Tribal Charitable Contribution Fund. The fund was used in the production of the Art Quilt Show, "Gems of the Ocean," Yachats, Oregon, March 10 – 12, 2017.
Read more about Ocean Artistry quilt shows.